There is an increasing need for a free Android screen recorder with no watermark.
Screen recording software enables users to record whatever is on their system screen conveniently. The software allows you to record a video of yourself demonstrating the software on your device. Although many screen recording applications on the market are free or offer free trial versions for a limited time, many have constraints in their capabilities on consumers from using the recording. For example, a watermark is usually automatically inserted into videos, and can only be removed by purchasing the software.
What is Vidma Screen Recorder?
Vidma is a high-quality screen recorder and video editor that allows Android users to capture easily, edit, and post videos online. Vidma app contains a plethora of user-friendly features that enable you to quickly and easily capture fast, secure, and transparent screen videos. Examples include gaming clips, live shows, video demos, video conferences, and video calls!
Features of Vidma Screen Recorder and Video Editor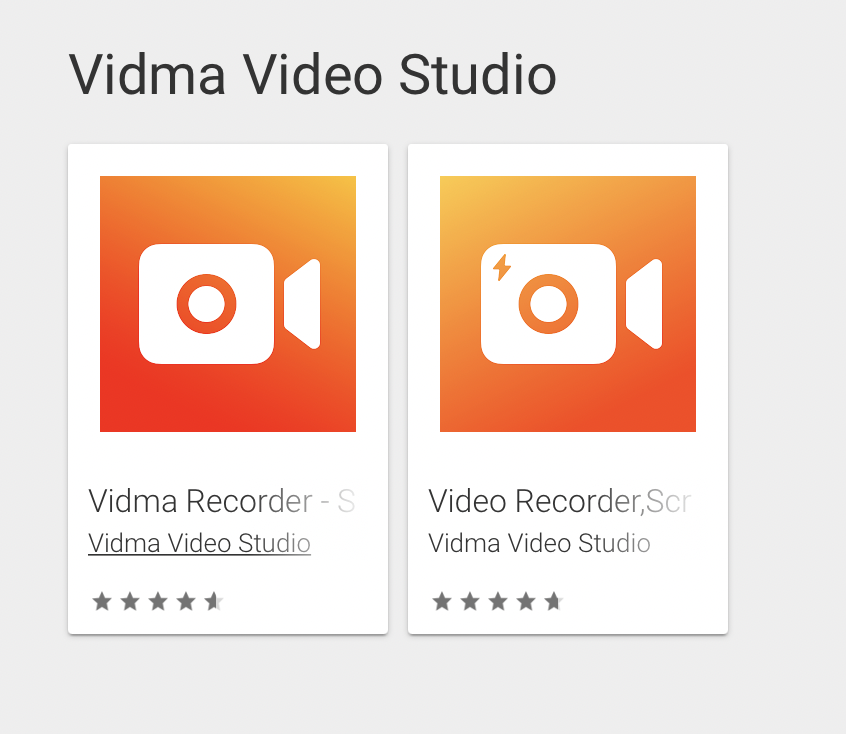 On Android, there are several screen recorders accessible for free! What distinguishes Vidma from the crowded competition in the market? The reason is simple – Vidma is an Android screen recorder with no watermark. It is absolutely free, easy to use, and secure.
Android Screen Recorder with no Watermark; for our Vidma Lite Version, absolutely FREE!
The Vidma app is a completely free Android screen recording application with no watermark, no need for rooting, and no time limit your screen recording. There is no need for a membership or charge, and it only takes just few seconds to download and use all of its wonderful functionality. Vidma Lite is designed for output on older Android software and handset models where app size can become an issue for performance and functionality. Vidma Lite is also available for phones with limited bandwidth and functionality.
High-quality HD resolution recording
You can capture video at the fastest frame rate of 60 FPS (Frames per Second), the best quality at 1080P, and in superior definition. The higher the FPS, the smoother the video will be, giving your recording a higher quality when you share them. There is also no time limit on the screen capture, although it is dependent on your current phone storage for the video – changing the settings to the best level would result in the best quality image.
Audio: Internal & External Mic Settings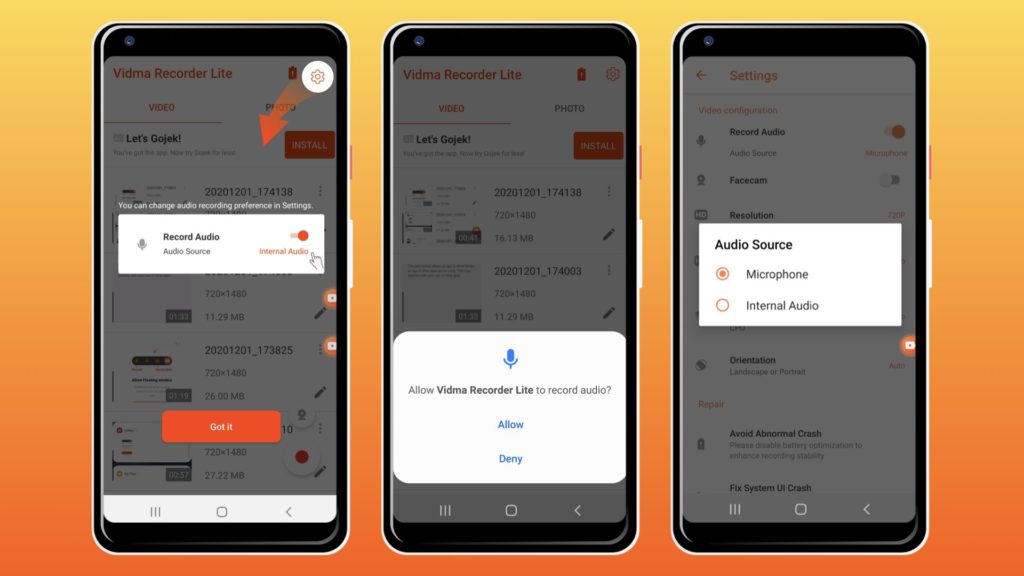 Vidma allows you to record internal and external audio simultaneously on a device running Android 10 or higher. This functionality comes in handy when you need to talk when your recording subject needs to sound. A lot of mobile gamers have successfully used this feature for simulation and instructional videos, making tutorials of gameplays that have been popular on YouTube, particularly in recent months because of the COVID-19 quarantine.
Face-cam Feature
You can capture both your screen and your expression simultaneously by using the image from your front camera as a window on the screen when recording. With the recent surge in popularity of reaction videos on social media, this latest feature makes it simple for anybody to become a content maker in humorous reaction videos!
User-friendly
Vidma's user interface is based on user feedback to build an easy-to-use screen recording software with intuitive shortcuts, icons, and text. The software is also optimized and localized into over 20 languages, ensuring a smooth and simple user interface.
Functional Editing Tools, Remove Watermark
Vidma has the features of a video recorder and lets you edit videos, so it works well for both professional and home users. It eliminates the need to transport the screen recording into a third-party program for editing. You will complete anything in a single app. You can also remove watermark during the editing process – this is absolutely free for use on Vidma Lite!
Safe and secure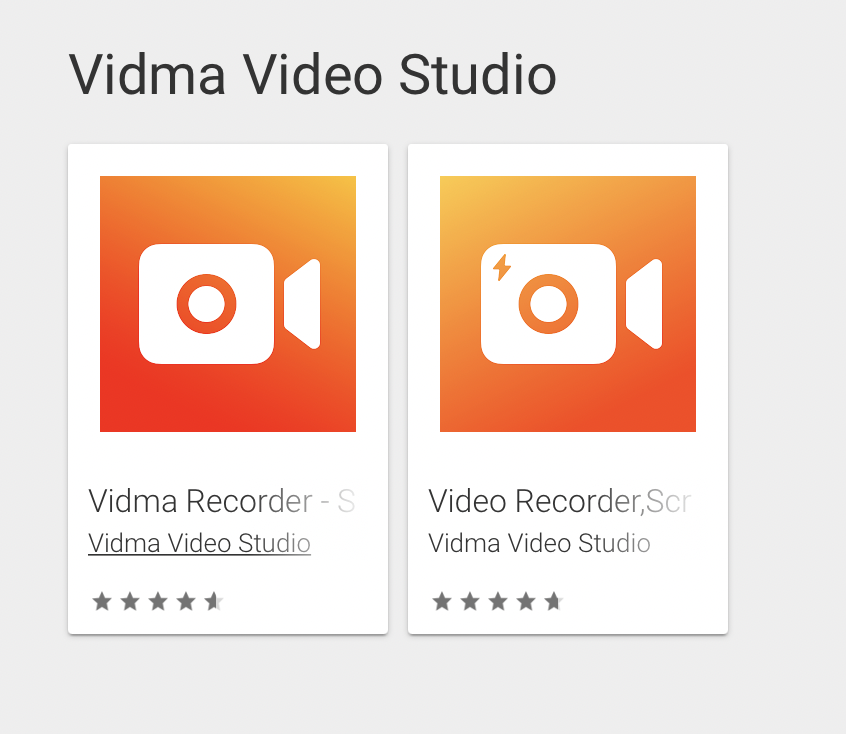 Vidma Recorder values your anonymity so that you can use the software in full privacy. All of the files you record are stored locally on your device. Vidma Screen Recorder can never gather sensitive information from users without their consent. It is impossible for anyone, not even Vidma itself, to access certain files at any moment. All screen recordings made with Vidma are yours truly; you will have no fear of anyone accessing them. Vidma APK files are routinely scanned and verified safe by leading anti-virus and malware sites worldwide. You can find our latest scan here.
Where can Vidma be used?​
Vidma makes it possible to produce content with only a few simple steps. Learn how to launch a YouTuber career by using Vidma, the powerful Android screen recorder with no watermark, to begin your commercial work. From gaming to reaction videos to demo videos, this software can generate a wide range of content. Get those views, and you'll be a powerful content maker.
It's a good idea to log important calls or meetings so you can jot down valuable suggestions during replay. You can also capture personal video calls with your loved ones for personal use, particularly during this period of physical and social separation, when these beloved moments become heartwarming for archiving. Get all these done on our Android screen recorder with no watermark.
At Vidma, we are always working on improving our products. The team at Vidma, appreciate your feedback and support in our product and blog, to help us become the best screen recorder on the market. Do leave a comment below or a review on the Play Store if you like our app!
Download Now: Vidma Lite | Vidma Pro
Check out Vidma: Facebook | Instagram | Twitter | GooglePlay | Website | Medium | Discord
Need more tips? Read all about it here!