People like to share their experiences playing games on their smartphones. They record their gameplay, upload their videos on YouTube, Instagram, or Facebook. Since a few games enable this feature, gamers tend to use a third-party screen recording with good audio capture. It could be a screen recording feature integrated into smartphones or screen recording applications downloaded from the Play Store.
Not all smartphones have a feature to record their screens. The users of iPhone 4 from 2010 will not get this feature as well as most users of Android. While you try to use screen recording apps, many are not good enough to record gameplay.
From many screen recording applications out there, Vidma Recorder is the best choice if you want to start recording your screens. Not just for your games, but for another purpose too. Vidma has many top features and leaves no watermarks in the output video. The app also enables recording of high-quality video (1080p, 60fps). You can even manage the quality of video if you have limited storage space.
Not just the visual aspects, Vidma also boasts of top features with its audio recording ability as well. We know that screen recording apps will not be perfect if it does not support audio recording. For most of us, especially game players, the feature of audio recording is a must in screen recording apps. The sound effects in a game bring life to the gameplay. Impressively, Vidma gives us the experience of audio capture of high quality.
For consideration, the audio features in Vidma comes with two options – the internal and external audio. What is the difference between these audio capture sources?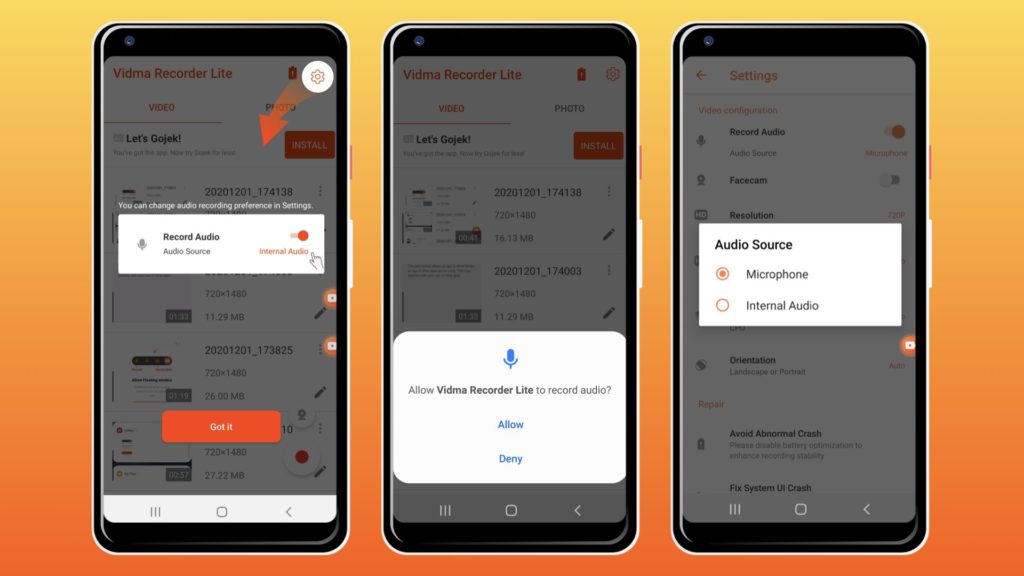 Internal Sound Audio
It is not easy to record the internal audio of smartphones without rooting the device at first. So, if you try to record our screen, you will get a screen video without audio.
However, since Android 10 release in September 2019, there is a way for apps to record the internal audio of smartphones. Google introduces this way by using a broad audio input sharing API. It enables apps to access the internal audio for smartphones with Android 10.
Vidma enables recording of internal audio while recording the screen activity. It's easier to record visual and audio activities without being disturbed by external sounds. For example, you can record a video lectures on the internet without unnecessary sounds, wherever you are.
It is worth to note that this feature is only for Android 10 devices at the moment. If your device is less than Android 10, unfortunately, there is no easy way to record the internal audio. So, make sure your device has the capability first.
External Sound Audio
While we choose the external sound as the audio source, we can record both activities on-screen and outside our smartphones. This feature is needed by those who want to record the players' interaction and the gameplay.
With this feature, you can make video content easily. You can create a review of some apps, giving explanations while opening the file, and many more. You don't need another app to edit it because Vidma allows you to edit the screen recording video directly, such as cutting, cropping the clips, and even give them texts and background music.
Another extraordinary feature that Vidma gives is that it enables us to record a face-cam recording. It makes us able to show our face on the screen as a floating tab while being recorded. A face-cam recording is a feature that you will not always find in similar apps. This adds another layer of human interaction to your videos, if you're an influencer doing a vlog content!
Download Now: Vidma Lite | Vidma Pro
Check out Vidma: Facebook | Instagram | Twitter | GooglePlay | Website | Medium | Discord
Need more tips? Read all about it here!