Love watching funny gameplay videos by your favourite mobile gamers? According to IDC data, Video Gaming revenue has crossed Global Movie Industry and North American Sports Industry. And Mobile Gaming is a type of Video Gaming.
Today, when everything is on your palm in the form of mobile phones, there are games on mobile phones that gave birth to this new type of video gaming called mobile gaming.
Mobile gaming is the leisure time of the future and another great source of earning money today, especially for mobile gamers who create content on platforms, becoming content creators and influencers in their niche field of interest. Here's a quick introduction to the Mobile Games Genre, as we see it:
Casual Mobile Gamers: People who play simple games for fun, great for pastimes. Some games as examples include Candy Crush, Gardenscapes and Subway Surfers.
Strategy Mobile Gamers: Games that require more thinking and strategising. These games are usually multi-player, where the stakes are higher, and the gameplay is more complicated. For example, PUBG Mobile, Arena of Valor and Clash Royale.
Fantasy Mobile Gamers: People who play these games are into fantasy, and enjoy immersing themselves in the full gameplay experience. Some of these games include Fate / Grand Order, Dragon Ball Z and Ragnarok M.
Casual Mobile Gamers plays mobile games to relax and break, whereas Strategy Mobile Gamers play to compete and work as a team. On the Other Hand, Fantasy Mobile Gamers are those mobile gamers who play games to escape from their world.
Mobile Gamers to earn money record their gameplay videos or stream them live on YouTube and monetize their channels. Let us take you to the top 7 funniest mobile gamers on YouTube.
Top 7 Funniest Mobile Gamers
Levinho – PUBG
Mobile Legends Cinema – Mobile Legends
Flamingo – Roblox
Sykkuno – Among Us
Tacaz – PUBG
Denis – Roblox
Levinho
Levinho is one of the top PUBG players who is famous for his accuracy and funny content. Players love to spectate his super cool gameplay style. His gameplay is fast, and gimmicks make his videos and content to get the audience watching him.
Mobile Legends Cinema
Our second funniest YouTube channel is Mobile Legends Cinema. His YouTube channel got dominated by WTF videos which are his main content also, and it makes his channel supper funny. He is famous for WTF moments; videos of Mobile Legends are super edited with music, effects and many more.
Flamingo
Albert, a USA based gamer, run this channel. He plays many different games, but he never removes his focus from Roblox. He regularly uploads twice. Fans love his talking style and the faces he creates while playing. If you want to watch new videos every day, then this channel is for you.
Sykkuno
Sykkuno is huge on trolling and never plays the game seriously but still has a big fan. Sykkuno plays among us most bizarrely, but still, he is the best in the business.
Tacaz
Here is another PUBG Mobile player on our funny mobile YouTubers list. He is a Vietnamese video and content creator with a huge fan following. His videos are entertaining, and his fans learn different tactics and new knowledge entertainingly. Playing Solo Vs Squad and trolling enemies squad makes the video funnier.
Denis
This Kid-friendly YouTube channel is creating videos and content on Roblox. This channel is especially for kids. His talking style and tone are what makes his videos funnier. He never let his audience even blink eye from his content.
How to Create Gameplay Videos on Android?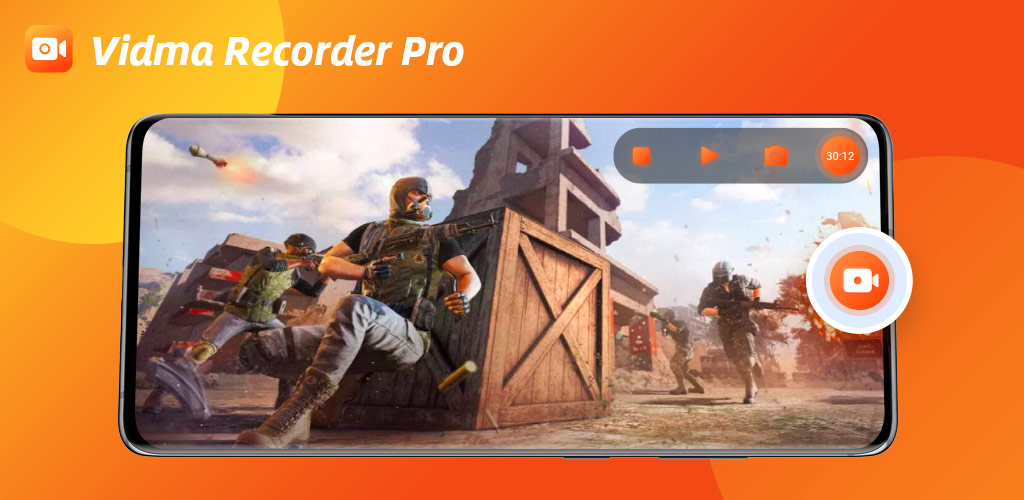 The most frequent problems for gamers is screen recording limitation, features, complex interface and editing can mess up and waste time. As a beginner to get started on this content creation process, try out our impressive FREE screen recording app Vidma!
Vidma Recorder offers an all-in-one app with just one tap to start and assisting gamers in creating exciting videos. It allows you to screen record, edit videos, and share them on various platforms easily.
Recording Videos: The free screen recorder capture high quality (1080p, 60 fps) videos with and without sound smoothly. Bet part it works on all android phones.
Video Editing: It offers an extensive range of features and tools to edit, trim, crop, add music/captions or titles to your video. Making it a perfect piece
Exporting to share: I love it most. After the video editing completes, you can export it easily to share on different platforms.
Face Cam Bonus: The most impressive feature is their handy screen capture tool. Use the face cam for creating engaging and interactive videos!
We can't wait for you to tap on your creativity and explore the different videos you can create with our Android screen recorder!
Download Now: Vidma Lite | Vidma Pro
Check out Vidma: Facebook | Instagram | Twitter | GooglePlay | Website | Medium | Discord
Need more tips? Read all about it here!