Screen recording is a useful function for mobile phones. We use this function for an array of activities – from demonstrating a tutorial, recording a professional meeting, to keeping intimate video call moments as keepsake, it's important to have a trustworthy app for this performance.
What is Vidma?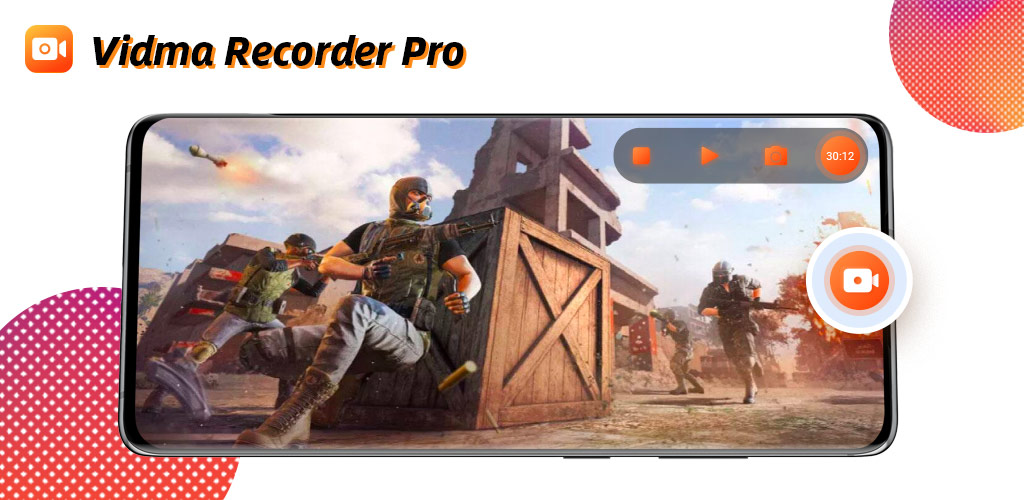 Vidma is an excellent quality screen recorder, allowing Android users to record, edit, and share their screen footage online seamlessly. With tons of user-friendly feature in the app, Vidma provides a quick and easy way to record smooth, stable and clear screen videos such as gameplay footage, live shows, video tutorials, online meetings, and video calls etc.
Vidma is available for free on Google Play Store, in both Lite and Pro version.
Why Choose Vidma?
There are a lot of screen recorders available for download on Android. What makes Vidma stand out from the others? It's free, simple and safe to use!
It's FREE
Vidma is a 100% free screen recorder for Android, with no watermark, no root needed, and no time limit. No subscription or payment required, it takes only 10 seconds to download and you can use all its wonderful features. For phones that may have lesser bandwidth and capabilities, there is also Vidma Lite, a version optimised for performance on older Android software and phone models.
Records in High Quality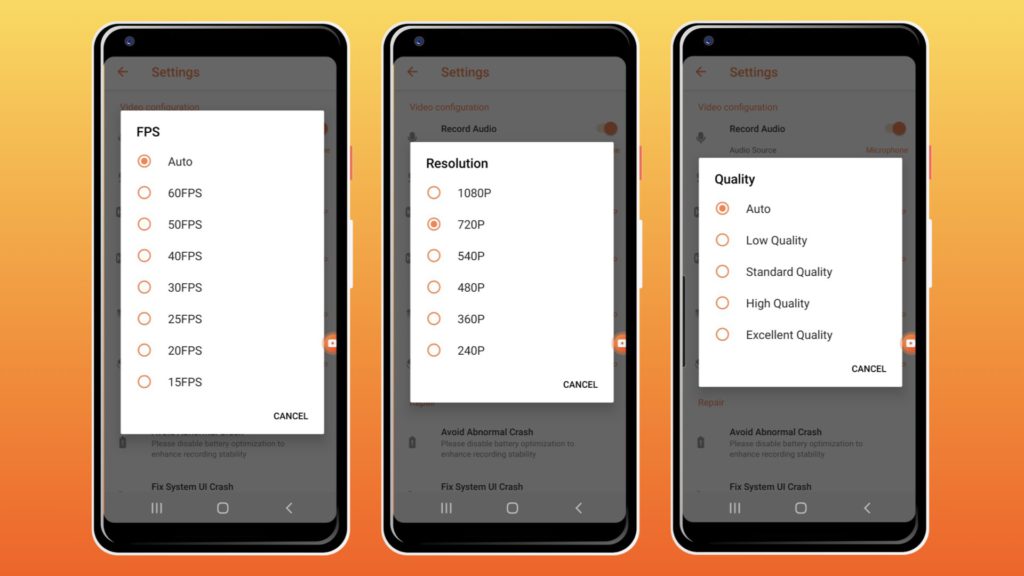 You can record video at the quickest frame rate of 60 FPS (Frame per Second), highest resolution of 1080P (Pixels) and in excellent quality. There is no time limit to your screen recording, though it depends on your existing phone storage for the footage – adjusting the settings to the highest quality would mean that the output file will be bigger.
Screen Recorder with Audio Capture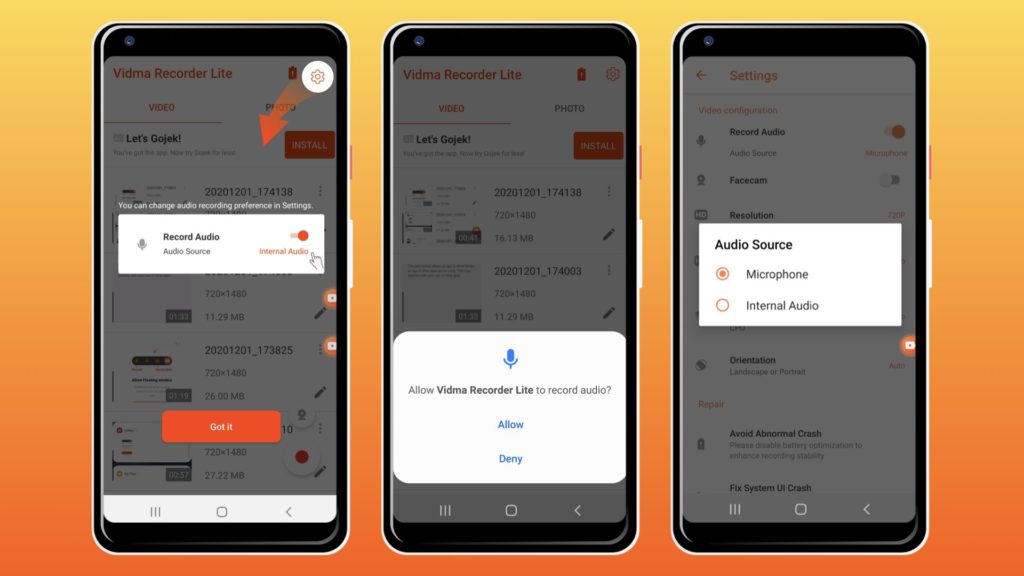 If you have a device with Android 10 and above, you can record both internal audio and external audio simultaneously, with the help of Vidma. You can read about it here. This feature is useful for when you need to speak, while your recording subject requires sound too. Mobile gamers have effectively utilised this feature for their gameplay and tutorial videos. Learn more about how you can fully explore and create engaging gameplay videos here and here.
Screen Recorder with Facecam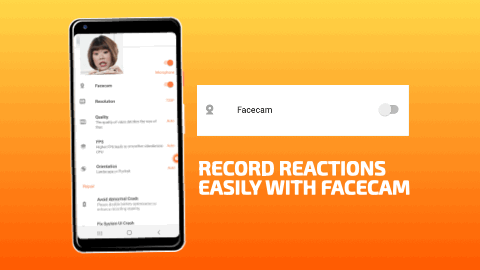 The image of your front camera can be included as a window in the screen while you're recording, so both your content and your facial expression can be recorded on the screen simultaneously. With the new wave of reaction videos gaining traction on social media, this added feature makes it easy for anyone to be a content creator in funny reaction videos. Try out yourself – more on reaction videos creation here!
It's SIMPLE
Vidma's user interface is modelled after various user tests, to create an easy-to-use screen recording app, with shortcuts, icons and texts that are easy to understand. The app is also optimised and translated across over 20+ languages, making user experience seamless and easy.
Record – Fast and Easy Recording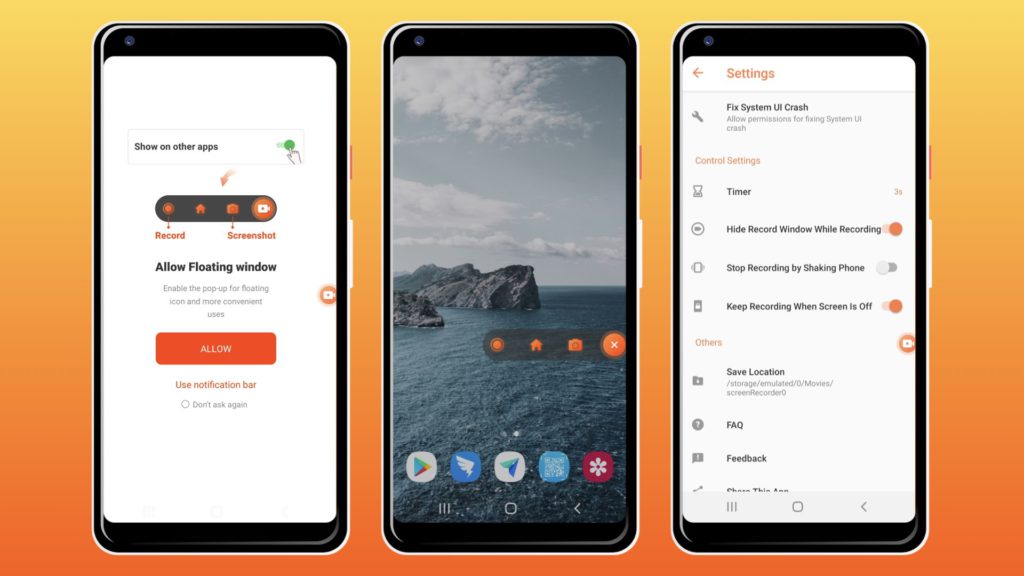 Vidma is an easy-to-use screen recording app with shortcuts on the two floating window – Recording and Brush Tool. These Recording Shortcuts allow you start, pause and stop screen recording effortlessly whenever you need. The Screenshot Button on recording shortcut can be used at all times, whether or not you're recording the screen. Brush Tool Shortcuts allow you to draw on the screen while recording, comes with an eraser and different colour options for the brushes.
There are a few key settings can be done for easy control while you're recording, such as setting timer before you start recording, hide record window when you're recording, and stop recording by shaking phone.
Edit – Comprehensive Editing Tools
Vidma is a full-featured video recorder loaded with fully functional video editing tools. It saves you all the trouble to export your screen recording to another third party application for editing. You can have it all done in just one app – simple!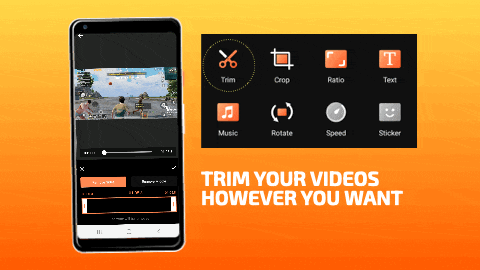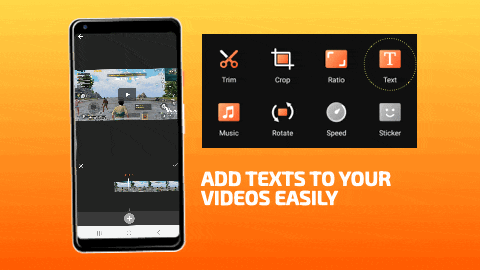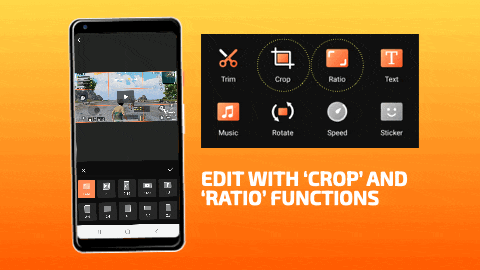 Rotate your video direction to make sure it's in the right way up.
Trim button makes it easier for you to off any unwanted parts of the video out, be it the beginning, the end or anywhere in between.
Crop your video into specific ratio according to the final platform you are uploading your video to, so that you optimise the viewing experience and the format.
Text and Sticker can be added at any time point of the video, making it easier for you to add subtitles and funny emojis to the screen recording.
Music: You can adjust the original volume of the recorded audio, as well as adding your own music to the recorded video for a personal touch!
Speed Control provides the flexibility to slow down or speed up your screen recording. This is particularly useful when you want to create a time lapse video, or to add comedic or dramatic effects to your recordings.

Share – Easy Export and Sharing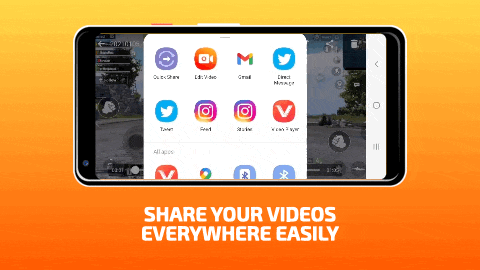 Once you're done editing, upload and share your unique videos to social media effortlessly through the share button. Videos made with our app are compatible with most online platforms and social media, ranging from YouTube, Instagram to Twitter and many more! Share your creation to your friends and community easily in just a tap.
If you think the video editing tools in Vidma are still not comprehensive enough, you can always export your footage video to other professional video editor apps for some final touches before sharing them online!
It's SAFE
Vidma Recorder cares about your privacy; hence you have complete privacy while using the app. All the recorded files are saved locally on your device. Vidma Screen Recorder will never collect personal files from users without permission. No one has access to those files except you the whole time, not even Vidma. You can read about or Privacy Policy here.
Registration is also not required prior using the app. Vidma can be used right after you download it from the Google Play Store. This way, you do not have to worry about giving away any personal details or information.
What's Vidma Good For?
Content Creation for Influencers and YouTubers
It's easy to create content on Vidma in just a few simple steps. Learn how you can start a YouTuber career by kickstarting your video creation with Vidma. Our app can be used to create diverse content, from gameplay, to reaction videos, to tutorial videos. Rake up those views and become an influential content creator! Read more about how different range of contents can be created here:
Recording Important Calls and Meetings
It's useful to record important calls or meetings, so that you can record important pointers down during playback afterwards. Other than for professional use, you can also record intimate video calls with your loved ones, especially during this time of physical and social distancing, where these cherished moments become heartwarming for keepsake.
At Vidma, we are always working on improving our products. The team at Vidma, appreciate your feedback and support in our product and blog, to help us become the best screen recorder on the market. Do leave a comment below or a review on the Play Store if you like our app!
Download Now: Vidma Lite | Vidma Pro
Check out Vidma: Facebook | Instagram | Twitter | GooglePlay | Website | Medium | Discord
Need more tips? Read all about it here!